Do You Hare What I Hare is a chance for OHRR supporters to give the rescue bunnies at the Adoption Center the things they want most. Some yearn for Cottontail Cottages, while others dream of willow chew toys. Each bunny currently at the Center has a stocking on a tree in the entryway. Generous OHRR friends choose a stocking off of the tree and buy all or some of the items for their bunny. Items can be purchased at the Center's Hop Shop (helping OHRR twice), through Amazon, or in local stores. You can leave the donations at the Center with your Bunny's name on them. The bunnies receive and open their gifts on Sunday, December 17 after 1:00 (it usually takes a while for us to distribute the gifts and for the bunnies to open them). If you are from out of town, and would like to choose a bunny to buy gifts for, just email us at contact@ohiohouserabbitrescue.org, and we will tell you how to make the donation. Thanks in advance to everyone who buys gifts for the bunnies!!!
Wine Basket Raffle – Donated by Adrienne Lang, this bunny and holiday themed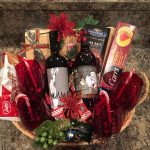 basket has unique wines, very festive Mikasa stemless wine glasses, gourmet chocolates, crackers, cookies, and a cheese board with carrot knife (so bunny!). Buy tickets at the Adoption Center, or if you aren't planning on coming to the Center before Dec 17, or are from out of town, email Adrienne at lang80@gmail.com to get information on how to buy tickets from a distance. You just have to be able to pick up the basket at the Center in the next month or so – too heavy to mail. Tickets are $1 each and 6 for $5. The drawing will be held December 17 at the Adoption Center.